Would anyone believe me if I said I almost picked Michigan State to make it to the Final Four of the NCAA Tournament? I didn't think so. But really - I was thisclose. Anyway, congratulations to coach Tom Izzo and his Spartans, who beat Kentucky 94-88 in double overtime (and broke the heart of my future bride, Ashley Judd). But considering the game went to overtime because of a game-tying three-pointer by Kentucky's Patrick Sparks that maybe only counted as two points (and went in after two or three bounces), karmic justice was probably on MSU's side.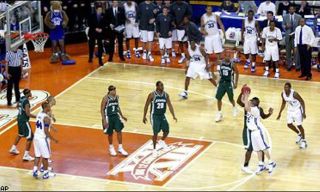 AP Photo

You be the judge - is Sparks's foot on the three-point line? (After sleeping on it, I think the referees did the right thing by letting the players decide the game in another overtime period.)
That's four trips to the Final Four in seven years for Izzo and MSU. If Izzo isn't already considered among the top coaches in college basketball (but I get the feeling he is), he definitely deserves to be now. His program should be in the same sentence with traditional powers like North Carolina, Duke, and Kentucky. (MSU beat those last two schools in this year's tournament. Will North Carolina be next on Saturday?)
Here's Bob Wojnowski's column from the
Detroit News
. And you know it's a big event if Mitch Albom is
writing about sports
again.