Here's more on the snub of Jorge Drexler at the Oscars from the Wall Street Journal. (Thanks to Mis Hooz.) Who is Jorge Drexler, you might ask? Well, you could scroll down for a quickie explanation. Just don't ask that in Uruguay, where the people are outraged that one of its native sons was denied the chance to perform his Oscar-nominated song, "Al Otro Lado del Río" ("The Other Side of The River"). Antonio Banderas was enlisted to sing in his place.

"I laughed when I saw Antonio Banderas's flamenco version," said Leticia Talmon. "That has nothing to do with the culture here." By the way, she was quoted while celebrating the inauguration of Uruguay's new president.

After "Al Otro Lado del Río" won the Best Song award, Drexler skipped a traditional speech and instead belted out a couple of verses from his song. In Uruguay, this gesture is being celebrated as an act of rebellion, a "bofetada sin mano" ("a slap without a hand"). It's becoming a symbol of national pride, right up there with the country's World Cup soccer victory over Brazil.

Mis Hooz also pointed out that Uruguay should protest the sore back Drexler probably suffered from stooping over to speak into the microphone.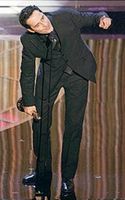 Getty Images

No one could've raised the mike for Jorge after Prince was done presenting the award? What a night for the poor guy. (Of course, he did win an Oscar.)