I hope those Easter Bunny suits are padded. You never know when a kid might go bat$#!t crazy and decide to attack. That's what happened to Bryan Johnson of Bay City, MI last week. A 12-year-old spaz unleashed hell on the poor guy, giving him a bloody nose in the process. Johnson didn't smack the little $#!thead down because he, being a good Easter Bunny, felt it would be inappropriate to get in a fight in front of children. He is, however, apparently going to press charges.

I wonder if the kid saw Donnie Darko the night before?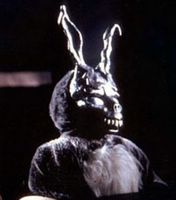 Happy Easter, Frank!

Here's the story from the Bay City Times.