(I've been sitting on this one for a while. Since today looks like a busy day - and a rainy one - it seems like a good time to take it off the shelf.)

During my visit home last month, I stopped by the Work Gallery in Ann Arbor to satisfy a curiosity and check out a piece by Sam, who's responsible for the mucho entertaining Blue Cats and Red Sox blog.

Looking at the exhibit and the rest of the gallery (and picking Sam's brain via e-mail about her work) got me to thinking about decisions I could've made, roads never taken, etc. I don't regret where I am now; I think it's where I'm meant to be. But through my early teens, I wanted to be an artist (more particularly, a cartoonist or illustrator). The University of Michigan School of Art even sent me a recruitment letter when I was in high school. (I actually still have that letter.) I've always kept that "what if" with me, and considered taking classes at Detroit's College for Creative Studies when I met Mis Hooz, who was studying there at the time. I also sent away for information from the Joe Kubert School of Cartoon and Graphic Art in Dover, NJ.

Why didn't I do it? Money. Fear. Uncertainty. And surely, a handful of other reasons that aren't occurring to me right now. But a part of me will always wonder what would've happened had I gone to art school. Along with the visit to the Work Gallery, this week-long journal by cartoonist James Strum in Slate brought that "what if" bubbling back to the surface. Strum is the director for a new school in Vermont called The Center for Cartoon Studies, which will focus on "the creation and dissemination of comics, graphic novels and other manifestations of the visual narrative."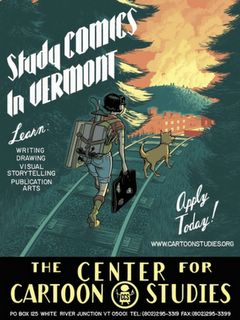 http://www.cartoonstudies.org/

Man, if only this place existed 8-10 years ago. I'd have been all over it. I have no idea if I would've been admitted. Probably not, but I would've tried like hell to get in. But hey, who knows? If this writing thing doesn't work out for me, and I can't find a decent-paying regular job, maybe I'll finally give the art thing a try. I'm getting a little too old to chase a dream, though - especially when a different chase brought me to Iowa in the first place. But I like to think that in an alternate universe, I'd be a
great
#@$%ing cartoonist.