After Sunday night's soul-crushing loss, many surely thought a Spurs win on their home court in San Antonio was a formality. The Pistons had to be a psychologically beaten team, right? Not so fast, my friend. This photo by Julian H. Gonzalez of the Detroit Free Press speaks rather emphatically.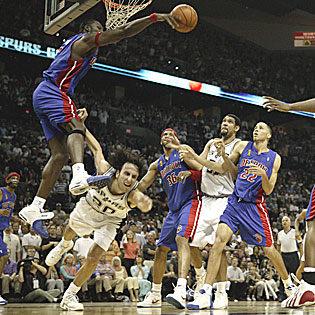 Get that $#!+ outta here!


Pistons 95, Spurs 86.
Sorry, San Antonio.
And how well did Rasheed Wallace sleep last night? An entire city and legions of Pistons fans were ready to string this guy up by his naughty bits after his total brain lapse at the end of Sunday's Game 5.

Please, please let me off the hook.


I thought 'Sheed would have to score, oh, about 83 points to earn Pistons fans' forgiveness and prevent himself from becoming Detroit's version of
Bill Buckner
. He only scored 16 points last night, but they were important and timely baskets. Detroit fans are notorious for holding onto a grudge - Scott Mitchell of the Lions and Tim Cheveldae of the Red Wings were booed straight out of town - but if Detroit wins Thursday night, all will surely
be forgiven
. Many have probably already forgiven 'Sheed for helping extend this series to a seventh game.
It's a tried-and-true sports cliche, but anything can happen in a winner-takes-all Game 7. Even though the game is on San Antonio's home court and probably gives them a slight edge, how can you bet against this Pistons team? Every time you're ready to write them off, they come back defiantly and remind everyone why they're the defending NBA champs.
Call the jeweler and get him ready to stamp out some more of those gold championship belts. They look good, don't they?
And a note to Mis Hooz: Since you were on the phone with me through virtually the entire game and Detroit won, you'd better make plans to spend Thursday the same way. Work the kinks out of your neck. Superstition is a mistress that must be served.
One more Pistons blog for the summer, people. Stay with me.