As Ryan Field said on the FOX Sports Detroit post-game show, if the San Antonio Spurs go on to win the NBA Finals in six games, Robert Horry will probably always be known in Detroit as "Robert '#$@%ing' Horry.' Despite Felix Gillette's arguments to the contrary in Slate, Horry lived up to his nickname as "Big Shot Bob" by hitting the three-pointer that gave the Spurs a one-point victory, 96-95.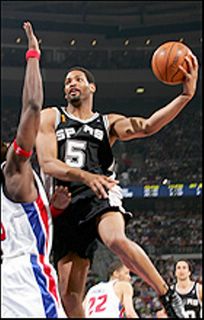 Nice shot, Bob.

Obviously, Horry deserves credit for making the shot. But I'd like to point a finger at the Pistons' defense - particularly Rasheed Wallace - for breaking what seems like a cardinal rule of basketball.
Always
watch the guy making the inbounds pass - especially on a play where they need a three-pointer to win. How many times has it happened: the guy making the pass sneaks back inbounds, the defense forgets about him, and he's wide-open for the winning shot. I never thought a Detroit Piston defense would make that mistake. (The brilliant
Terry Foster
agrees with me. Ahem.)
The man who's probably most grateful to Horry is his teammate,
Tim Duncan
, who did virtually everything in his power to prevent the Spurs from winning. Duncan is a very good player, but in the final minutes of Game 6, he showed why he shouldn't be considered a
great
player. You cannot miss three of four free throws, and then a rebound tip in the final seconds that could've won the game, along with letting the ball slip through your hands and go out of bounds on an easy pass in overtime, and be considered a great player. Magic Johnson wouldn't have botched those plays. Larry Bird wouldn't have, either. And you know what Michael Jordan would have done. I'm not sure anyone had Duncan on the same level with those legendary players, but he's the one guy in this series who could arguably be called a "superstar."
'Fraid not, Timmy. Maybe that's just me being a sore loser, but your teammate bailed you out this time. You should buy him a big, fat steak dinner tomorrow night.
We'll see if San Antonio can do it again on their home turf Tuesday night. Detroit knows they let one get away, and I'd be surprised if they didn't fight like wild dogs to force the series to a seventh game. So is this officially a series now? Pistons coach Larry Brown says a series really starts when a team wins on their opponent's home court. I hope there are two more games remaining in this series. But the chances of Detroit winning two straight games in San Antonio looks slimmer than Christian Bale in
The Machinist
.
However, the Pistons seem to enjoy making NBA Finals history. In
1990
, no team had ever won three straight road games in the Finals until Detroit did it in Portland. And
last season
, no home team had ever won three straight home games until the Pistons did it against the Los Angeles Lakers. If any team can do it...