How can a man type with gnawed nubs as fingertips? My fingernails were bitten down to the tips while watching last night's Game 7 between Detroit and Miami. With all of our superstitions at their disposal, the Pistons finally acted like defending NBA champions, focused on playing basketball, and defeated Miami, 88-82.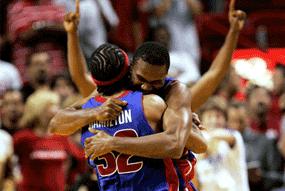 Robin Buckson/The Detroit News


And as a Pistons fan, I feel more relieved than excited. I hate to admit it, but I had serious doubts as to whether Detroit could win this series after the complete turd they laid out in Game 5, losing
88-76
. I apologize for the temporary loss of faith, guys.
Now, I no longer have to lament the fact that team president Joe Dumars drafted
Darko "Does sitting on the bench make my ass flat?" Milicic
instead of superstar-in-waiting
Dwyane Wade
(who scored 20 points last night, despite his rib injury that
felt like a stab wound
, according to
Terry Foster
). I don't have to watch
Udonis Haslem's
long braids bouncing off his shoulders as he runs down the court after making a big play against Detroit. And best of all, I get a much-needed break from watching
Alonzo Mourning
dance, flex, genuflect, and act like a complete idiot after he scores his one basket for the game. Man, I hate that guy.
Next are the San Antonio Spurs for the NBA championship, beginning Thursday night. I noticed that some so-called experts, such as ESPN's
Marc Stein
and Chad Ford are predicting a win for the Spurs. That's okay. Hell, if I were an unbiased observer, I'd probably admit that San Antonio is playing like the better team right now. And they won the NBA title in 2003. But the Pistons and Detroit fans like it more when their team is considered the underdog. It makes the victory that much sweeter.