Tate to Holloway, all the way, for a game-winning touchdown for Iowa in this afternoon's Capital One Bowl vs. LSU. (And no, I don't get anything from Capital One for using its name - though maybe I should. How about a dream date with David Spade where we fight off all those interest rate barbarians, and then he pays off all my credit card debt?) A 56-yard bomb of a throw, a wide receiver left inexplicably wide open by LSU's defense, and a 30-25 victory.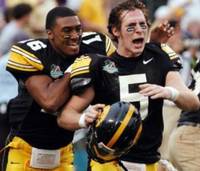 from sports.yahoo.com

And all that after I was screaming at the TV, cursing Iowa's terrible clock management that cost them at least 10 precious seconds and a chance to win. Then quarterback Drew Tate found Warren Holloway for his Hawkeye miracle. And I probably haven't jumped that high in almost 10 years.

Four hours later, however, Texas place-kicker Dusty Mangum (there's a Texas name, if I ever heard one) ruined the Casselberrys' New Year's Day with his 37-yard field goal at the end of the game that gave Texas a 38-37 win over Michigan in the Rose Bowl.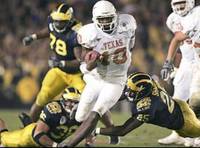 from ESPN.com

The above photo says it all. Here's essentially a re-enactment of the whole game: Texas quarterback Vince Young decides to run, no Michigan players can tackle him, Young scores a touchdown. It happened four times. Michigan's linebackers looked slow and grabbed air every time they tried to stop Young. His four touchdown runs, to go along with his one touchdown pass, overshadowed a terrific performance by Michigan's wide receiver Braylon Edwards, who scored three touchdowns of his own. If it weren't so infuriating to watch, maybe I could've appreciated how comical it really was.

Oh well. As my sister said, "at least one of [my] schools won." Except I never went to school at Michigan. I'm just an Ann Arbor boy. Back to Iowa City, home of the victorious Iowa Hawkeyes, in a few days. I never thought I'd miss their local news, but I'd love to watch their sports coverage tonight.