I wasn't planning on seeing Kevin Spacey's "Beyond the Sea," but my dad won tickets to its opening night at the Michigan Theater in Ann Arbor, courtesy of WEMU (thanks guys - Dad's a big fan). Spacey's Bobby Darin tribute has been getting brutalized by the critics, most of whom dismissed it as his "vanity project." But I've always liked Spacey, even in terrible movies ("Pay It Forward"), so I figured it was worth a try. (Also, the ticket was free.)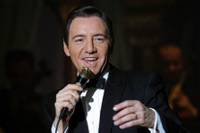 Immediately after the movie, I thought the critics were far too harsh. Maybe Spacey was too old to play Darin (he's 45, Darin died at 37), but his energy on-screen seemed to make up the age difference. (I also liked the in-joke at the beginning of the film that addressed this very topic.) What most impressed me was Spacey's passion for the project. This was very obviously a story he wanted to tell, a role he wanted to play.

Was it arrogant of Spacey to sing Darin's songs, rather than lip-synch over the original recordings? I don't think so, especially considering that Darin didn't have as distinct a voice as, say, Ray Charles. Besides, as an actor, if you want to play a singer, why shouldn't you actually sing, if you can? And Spacey can sing, maybe even better than Bobby Darin. (Roger Ebert said as much on his TV show.) On the way home, my dad said he actually preferred watching Spacey perform as Darin over watching Darin himself. (And considering Dad's old enough to have seen and heard Darin in his heyday, I'll believe him.)

But the more I think about it, something just isn't right with "Beyond the Sea." To me, it wasn't the performance; that was the best part of the film. But I'm not sure it was a very good movie. In any biographical film, time is going to move too fast. Everything has to fit within that two hour frame. But Spacey never really takes the time to show or explain why a film about Bobby Darin needed to be made. By resorting to storytelling gimmicks like having the adult Darin interact with his childhood self and incorporating musical sequences into the narrative ("Well hello, Miss Sandra Dee!"), Spacey seemed to realize that Darin's life just wasn't that interesting. And when he addresses things that did actually happen, such as Darin's political beliefs changing him into a denim-wearing hippie folk singer, they're almost too comical to be true.

So I guess I agree with the critics - to a point. I still think most of them were too mean regarding Spacey's singing and dancing ability. (Considering my own deficient abilities in those departments, maybe I'm just easily impressed.) Spacey's passionate performance deserves admiration. It just isn't enough to make a mediocre story into a great one. But damn, I'm whistling "Mack the Knife" a lot when I walk around the house...