All day with no Detroit Lions makes a Sunday evening quite pleasant. And I certainly spent it productively. Since I didn't spend most of the day watching football (except keeping up on games involving players on my fantasy team - I knew that would happen), my body apparently suffered from TV withdrawal later in the evening, thus forcing me to sit down and absorb hours of the stuff.

Did NBC tell us it was moving The West Wing to Sunday nights? I missed that memo. I don't think I've ever walked away from a TV show for a few years, and then come back to it. (Once you're cut off, you're done!) Have you ever done it?

But I'm fascinated with how this show is preparing to revamp itself, as it follows a new presidential campaign between Jimmy Smits and Alan Alda. I know dramas like ER and Law & Order have changed casts over the years, but to me, they're still the same show. To me, it feels like The West Wing is making itself new all over again.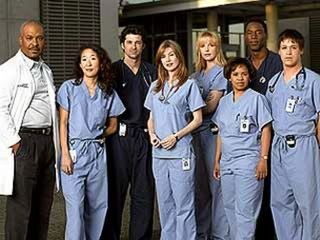 The show I was really looking forward to, however, was Grey's Anatomy, or as I like to call it, Doctors Fucking. Oh, sure - you're like my sister. You watch it because it's a medical drama; you want to see how the doctors will cure that patient who's having seizures for no apparent reason. Right. (You should be watching this show instead, if that's really the case.)

C'mon, you watch because everyone is fucking everybody on that show. The title character, Meredith Grey, is fucking this guy, Dr. McDreamy. Her friend is fucking this guy. Well, as of last night's episode, it looks like they won't be fucking anymore. Yet this guy wants to fuck Grey, but she's fucking Dr. McDreamy, so he went off and fucked somebody else. But make no mistake, he still wants to fuck her. Meanwhile, it looks like this doctor and this doctor will eventually fuck, but see, they hate each other right now (or at least pretend to). It's the stuff TV romance is made of. So it'll probably be a few episodes before they do what everyone else on the show is doing.

Oh, and I almost forgot - an Entertainment Weekly feature on the show seemed to imply that Grey's mentor and mother may have fucked at some point in their lives, too. ("It'll be very provocative," said James Pickens, Jr. who plays the mentor.)

Hey, I'm just trying to provide a service to you. Television Without Pity isn't writing about Grey's Anatomy, so I'm giving you all you need to know about the show right here. Doctors are fucking, man. This isn't ER, where only Dr. Carter is fucking everyone. And that's why people are watching.

... Or is it just me?